Arctic Sea Ice Visualizations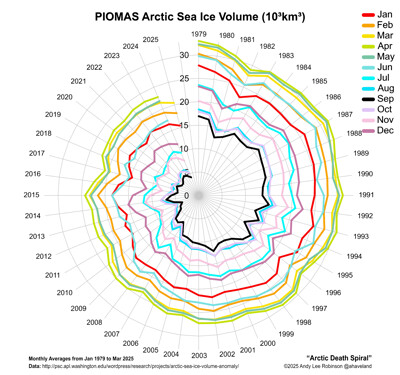 Some years ago I got interested in what was happening in the Arctic so I used my graphics and programming skills to create some vizualizations to help illustrate what was going on.
Joe Romm coined the phrase "Arctic Death Spiral" so in 2013 I decided to try to create a visualization in spiral form, and update it every month as new data is published by the Polar Science Center.
Here are some places where it has been featured:
Tweet by United Nations Climate Change Secretariat
Neven's Arctic Sea Ice blog
Climate Progress
Daily Kos

This site is also the home of the Official POVRay Benchmarks, established in 1994, which is a repository of benchmarks to compare the performance of any computer or cluster of computers capable of running POVRay - a popular and very sophisticated program for generating photorealistic 3D images, and which incidentally I used to generate the Arctic Death Spiral.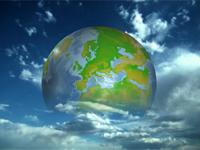 Andy Lee Robinson Pg. Dip. MIT is an IT consultant, CTO, DBA, Linux system administrator, web hosting provider, programmer, 3D graphic artist and pianist. He has completed many assignments from market research analyses, technical authoring, typesetting, publishing books and magazines, web design, optometrics, genetics, advertising, social network development and graphics visualizations.
He is passionate about science, computer aided art and technology, and has three decades of programming experience to help innovate creative solutions to interesting and novel problems.
He manages a cluster of highly available linux servers running a few social networking sites and sites for selected clients, and has time to explore and experiment with interesting stuff for fun and even food.
He enjoys travelling, but much prefers remote working using great tools such as Skype, MSN, ICQ, VNC and best of all, SSH on a linux terminal.
He is especially familiar with Redhat flavour Linuxes such as Fedora and Centos, and fluent with most aspects of system administration and security, optimization, automation and simplification.
Core expertise include: Apache, MySQL, PHP, Perl, Bash, sendmail, iptables, MailScanner, SpamAssassin, SSH tunnelling, geoip-based transparent proxying, MySQL multiple master/slave topology and load balancing and log processing.
He plans at some stage to publish some solutions that others may find useful such as adaptive threat detection, reporting and defence, and detecting, managing and reporting high volumes of spam, of which the system processes some 10,000 messages per day.
If you want to try to hack this system you will likely get banned.